WAM Europe CASE STUDY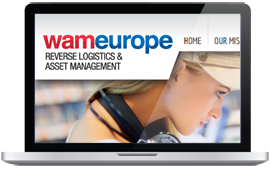 A very clean and simple corporate website for technology logistics specialists WAM Europe. ... Read more
ON THIS PROJECT
Organic SEO
Website code that's clean and well structured plays better with search engines and will attract more organic visits.

---
HTML and CSS Authoring
For high quality and highly compatible HTML and CSS markup, look no further. We validate and test on major platforms and browsers.

---
Bespoke PHP & MySQL Coding
If you need a more dynamic website or one driven by a database, talk to us about PHP and MySQL.

Testimonials
"Time and again Codecraft deliver great work accurately, on time and on budget."
–
Conor Dardis
,
Design By House
"Codecraft have produced a quality product, with creative flair and attention to detail. They are extremely professional at all times."
–
Howard Strowman
,
WAMDirect.co.uk

---
E-Commerce
Whatever the product (or service), we can create systems that help businesses to sell online.

---
Website & Email Hosting
We can provide competitive domain names & hosting plans to all our clients to remove the hassle of dealing with multiple companies.