WAM Europe CASE STUDY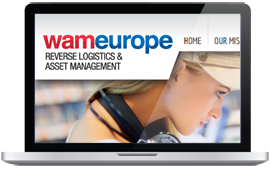 A very clean and simple corporate website for technology logistics specialists WAM Europe. ... Read more
ON THIS PROJECT
Pay Per Click Marketing
We can set up and run effective Google Adwords campaigns to bring traffic to your website.

---
HTML and CSS Authoring
For high quality and highly compatible HTML and CSS markup, look no further. We validate and test on major platforms and browsers.

---
Bespoke JQuery Coding
From content-rich sliders to asynchronous content (AJAX) and anything inbetween; we write custom JQuery for websites.

Testimonials
"Codecraft have produced a quality product, with creative flair and attention to detail. They are extremely professional at all times."
–
Howard Strowman
,
WAMDirect.co.uk
"Codecraft's ideas were creative and innovative and we worked in partnership to develop a professional and informative web site."
–
Howard Strowman
,
WAM Europe

---
Bespoke PHP & MySQL Coding
If you need a more dynamic website or one driven by a database, talk to us about PHP and MySQL.

---
E-Commerce
Whatever the product (or service), we can create systems that help businesses to sell online.