George House Trust CASE STUDY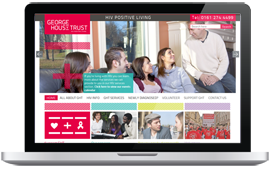 George House Trust are the largest UK health charity in their sector outside London. Whilst undertaking a full rebrand, Codecraft were brought on board to provide a fully content managed website with some interesting challenges. ... Read more
ON THIS PROJECT
Bespoke Content Management
Our content management system that gives you all the tools you need to manage your website, and none of the ones you don't.

---
Organic SEO
Website code that's clean and well structured plays better with search engines and will attract more organic visits.

Testimonials
"Codecraft created a bespoke website for my company and continues to provide a high level of expertise and personable service."
–
Carl Simon
,
SAB Properties
"Codecraft have produced a quality product, with creative flair and attention to detail. They are extremely professional at all times."
–
Howard Strowman
,
WAMDirect.co.uk

---
HTML and CSS Authoring
For high quality and highly compatible HTML and CSS markup, look no further. We validate and test on major platforms and browsers.